FOR ALL YOUR HOME BREWING SUPPLIES
MONTHLY SPECIALS
A luxurious flavouring blend of dark rum and indulgent chocolate with subtle sweet vanilla notes.
Makes 1L – Add the bottle contents to a 1L bottle and top up with vodka or neutral spirit at 40%

Details
Marlin Coast Home Brew
74 Ishmael Rd
(Cnr Ishmael and Telford St,
just behind Stockland)
Earlville Qld 4870
Phone: (07) 4041 6606
Hours 8:30 AM – 5:00 PM Mon to Fri, 9:00 – 2.00pm Sat, Closed Sun
24 hours for online orders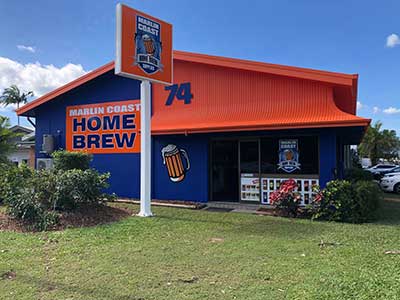 Visit Our Shop
at 74 Ishmael Road Earlville
(Cnr Ishmael Rd & Telford St. Just behind Stockland).
We offer a huge variety of Distillation Equipment, Spirit/Liqueur Essences, Turbo Yeasts, Filters & Carbon! As well as a wide variety of Hops, Beer Malts & Beer Yeast!
SAVE SHIPPING
Buy ONLINE from this website before 3.00pm Monday to Friday and we can have it ready for pickup by 4.00pm the same day.
Homebrew Supplies
We are your LOCAL brewing experts, with Home Brew recipes, Starter Kits, and all type of Home Brew equipment.
We stock everything you require for Distilling Spirits and Brewing Wine, Beer & Cider.
We stock Beer Concentrates including – Coopers, Mangrove Jacks and Morgans, Fermenters, Malt, Hops & Yeast, Sterilisers, Kegs & Keg Systems and Caps & Cappers.
We have all the popular brands of Homebrew Supplies – Edwards Essences, Willards Essences, Essencia Essences, Noble Essences, Prestige Essences,Still Spirits Classic Essences, Original Essences and Top Shelf Essences.
Popular Beer & Cider brands include , Morgans Beer Tins, Coopers Beer Tins, Black Rock Beer Tins & Mangrove Jacks Beer/Cider Pouches.
For the Home Spirit Maker we have everything you require including a large range of Spirit or Liqueuer Essences, Liqueuer Bases, Fermenters, Additives,Boilers, Stills, Wood Chips, Yeasts, Filters, Sugars, & Condensers
You can change low-cost alcohol into authentic copies of the most well known Rum's, Bourbon's, Whisky's, Gin's, Vodka's, Tequila's and of course Liqueurs!
On this website, under 'Brewing info' in the main menu, we have Videos on Distilling, Tips, Recipes and useful Information on Brewing and how to re-create your favourite tipple.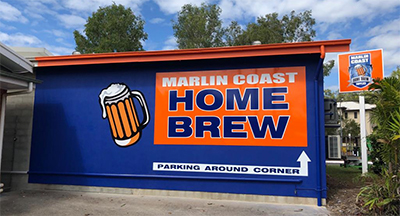 Shipping Insurance
IMPORTANT, Customers Please Note!!
Please ensure your package's are INSURED PARCEL through our website, to guarantee their complete safety!
NO responsibility will be taken by Marlin Coast Home Brew for ANY & ALL items you choose to send WITHOUT insurance, in the event of lost or damaged goods,
Any grievances must be taken up directly with AUSTRALIA POST by phoning 131118.
Please see our Shipping page for further information
Brewing Info
Browse through our handy articles covering aspects of home brewing –